Early Years
Paul Gibson was born on June 16, 1952, in Sacramento, California. A few years later, his family moved to the small village of Chitray, France, near the airbase at Châteauroux where his father worked for the U.S. Air Force. Gibson experienced his first liturgical music – Latin hymns and chants – in the local parish church.
On special occasions, his father took him to the nearby abbey at Fontgombault (founded 1091) to hear the Benedictine monks sing the mass in Solesmes-style Gregorian chant, experiences which were later to have a significant impact on Gibson's compositional approach.
After returning to the States, the Gibson family settled in San Bernardino, California, where Paul attended the local Catholic grammar schools. Around the age of eight, he began piano lessons and was inspired by biographies of Schubert and Beethoven to compose, his first pieces being short studies for piano. He continued formal piano lessons, including a healthy diet of Bach and Bartók, through the eighth grade.
Education
In high school – first at St. Thomas Aquinas in San Bernardino and then at Bishop Montgomery High School in Torrance, California – Paul Gibson's interest turned to pop and rock music, and he became increasingly involved as a songwriter and performer, singing and playing keyboards, flute, and guitar.
He entered Mount St. Mary's College (now University) as a Music Composition major, studying theory, composition, and arranging with Matt Doran, a student of Ernst Toch. During these years he also began choral singing (under Paul Salamunovich) and studied Music History (with MaryAnn Bonino), developing a fascination with and love for Medieval and Renaissance music.
After graduating summa cum laude from Mount St. Mary's, Gibson attended California State University, Northridge, studying composition and orchestration, primarily with Frank Campo and Aurelio de la Vega, a student of Arnold Schoenberg. Though his studies focused on post-Webernian serialists and the Polish school of Penderecki and Lutoslawski, his compositions tended to reflect the conservative bent of the music he sang in various choruses under Paul Salamunovich, John Alexander, and William Hall. During this time, he also began his professional church music career, playing organ, leading a youth (guitar) group, and singing as cantor for St. Monica's Church in Santa Monica.
A Life in Music
After earning his Masters of Music degree, he began an extended period of freelance work in a wide range of music-related activities, including singing, piano tuning, teaching, music criticism, and working at KUSC-FM, a leading classical music public radio station associated with the University of Southern California where he also studied composition with Ian Krouse.
In 1985, he joined the Los Angeles Master Chorale with whom he has sung under three Music Directors: John Currie, Paul Salamunovich, and Grant Gershon. In addition, he performed in the Chorale with the Los Angeles Philharmonic under such conductors as Simon Rattle, Zubin Mehta, Esa-Pekka Salonen, Peter Schreier and André Previn, in repertoire ranging from Bach to Ligeti. For several years, Gibson also sang in the chorus of the Los Angeles Opera. Besides performing in large ensembles, he also sang in chamber choirs, most especially Ex Indigo Singers and Zephyr: Voices Unbound.
He also enjoyed long associations with St. Margaret Mary Parish in Lomita, California, and Holy Family Cathedral in Orange, California. His freelance singing work has ranged from a performance of Tallis' 40-voice motet Spem in alium with the Tallis Scholars to a late-night recording session for Rod Stewart.
Highlights & Milestones
Prominent Catholic musician Frank Brownstead commissioned Gibson to arrange the hymns that concluded the two main liturgies of Pope John Paul II's visit to Los Angeles, at the L.A. Coliseum and at Dodger Stadium. These hymn concertatos for brass, organ, and choir became his first published works, through Oregon Catholic Press (OCP). Gibson was selected twice in the Pacific Composers Forum Commissioning Circle Program and was a winner in the Fifth Annual PCF Competition for New Music.
Publisher G.I.A. released A Mass of Life, a critically acclaimed CD collection of his sacred music, described by author and classical radio host Jim Svejda as "…one of those rare contemporary works which manages to be simultaneously provocative, challenging and instantly approachable…a consistently rewarding, deeply moving work by one of the most humane composers of his generation." Gibson took part in the first Composers Symposium of the Oregon Bach Festival, where three of his choral works were performed and where he studied with John Harbison.
For the group's 15th anniversary, Anne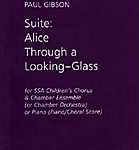 Tomlinson and the Los Angeles Children's Chorus commissioned Gibson to compose Suite: Alice Through a Looking-Glass, a multi-movement setting of Lewis Carroll texts for treble voices and chamber ensemble.
Gibson's It Fell Upon the High Midnight was named one of two winners in the annual Christmas Carol Competition sponsored by the American Composers Forum and VocalEssence, whose performances were recorded for broadcast on public radio and for CD release. Commissioned by Loyola Marymount University for the Golden Jubilee of the choral program founded by the late Paul Salamunovich, Gibson's Te Deum for chorus and orchestra was premiered by Dr. Mary Breden and the choruses at the Jesuit university. The National Children's Chorus received a standing ovation for their performance of his Dona nobis pacem at Carnegie Hall, and his Noel, Noel, Noel was part of St. Olaf College's iconic Christmas Festival.
Honors & Performances

Paul Gibson received the Owen Award from Oregon Catholic Press for "outstanding achievement in the field of liturgical music." CREATOR magazine named his
Veni Sancte Spiritus one of the ten best sacred works of 2001. The Los Angeles Times described his Salve Regina as "music of vaulting exaltation,"and his choral works have been broadcast on hundreds of radio stations across North America. Paul Salamunovich, Grant Gershon, the Los Angeles Master Chorale, the Los Angeles Chamber Orchestra, Philip Brunelle, Charles Bruffy, the Kansas City Chorale, the Phoenix Chorale, the Debussy Trio, the National Children's Chorus, members of the Los Angeles Philharmonic, Richard Proulx, the Los Angeles Chamber Singers, and the De Angelis Vocal Ensemble are among the many artists who have performed his work, which is published by Alliance, ECS (E. C. Schirmer), Fatrock Ink, G.I.A. Publications, Oregon Catholic Press, and MorningStar.
Gibson lives with his wife Carol and animal companion in Anaheim, California.